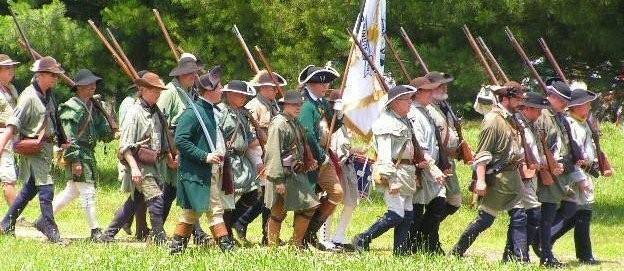 Who We Are…
Our re-creation of the Culpeper Minute Battalion was formed in 1992 by a handful of individuals who wanted to field a quality militia impression. We believe that a potential recruit or family should look not only at the history of a unit, but also the "personality" of the recreated unit as well. Just as fraternities, civic organizations, and churches can differ, so too can reenactment units. Below are a few key points that highlight where our company stands:
FAMILY FRIENDLY We emphasize, this is a family-oriented group. This is a company in which wives and children can feel at home; and, they will be encouraged to demonstrate and take an active part in recreating camp life of the 18th century. As such, drinking, loud and boisterous activity, and foul language will be kept to a minimum. We have a good time while still behaving responsibly.
AUTHENTICITY Our goal is to accurately recreate and portray the rural rifleman of 18th century Virginia. We are a moderately progressive group and encourage everyone to strive for the highest level of accuracy. We keep a "period" camp for the duration of the event. From the official event start (usually Saturday mornings) until close, our members and guests are expected to maintain period appropriate dress and, display/use only period appropriate items. While we welcome and encourage "progressive" and "hardcore" impressions with minimal gear, we understand this is not always easy or practical for families, so we simply ask that only appropriate tentage be used and non-appropriate gear be kept out of sight.
Being members of several organizations and attending various independent events, we find that each event has its own "standards". We choose to maintain the highest camp standards, regardless of the event we attend.
PARTICIPATION Those fielding within the ranks of our company are expected to be present for any assigned drill, morning and evening colors, as well as battle. We believe the best way to insure safety is to practice both drill and tactical exercises. All soldiers are expected do their part. With that said, we realize there may be some who have physical limitations that keep them from taking part in some activities, which is not a problem. We don't ask anyone to do an activity they are not comfortable with. Those who choose not to field may be interested in running a display, demonstration, or talking with visitors in camp.
CLOTHING REQUIREMENTS Although the Culpeper Minutemen were militia, they also had some uniformity. New members will receive a preferred clothing and equipment list, detailing each article and providing references and sources. We wear hunting shirts of green linen and patches with "Liberty or Death" embroidered in white. A round hat with buck's tail forms the required headgear and blue wool leggings complete the "standard clothing". The rest of the clothing is just typical of what a civilian in rural Virginia would bring and should reflect each recruit, or family member's station. Shoes are the preferred foot ware, though moccasins are also appropriate. New members have a year to acquire the correct clothing and accoutrements.
EQUIPMENT REQUIREMENTS As the minute battalions were drawn from the militia, each individual brought his own firelock and equipment. The original Minute Men were armed primarily with rifles with some supplement of muskets issued to replace the worst firelocks. We therefore are primarily a rifle company and, rifles are the preferred weapon. Some muskets and fowlers are also appropriate, but all firelocks will be of traditional style and appropriate to the Rev War timeperiod or before. It is best to check with an experienced member before purchasing any firelock. Many times, we have the resources to find truly authentic, well-made, weapons at a competitive cost. Don't make an expensive mistake here, check before you purchase.
Other equipment would include hunting pouch (perhaps a few cartridge boxes), powder horn, Knife and hatchet.
ORGANIZATIONS WE ARE AFFILIATED WITH include the Brigade of the American Revolution (BAR) and North West Territory Alliance (NWTA). Culpeper dues are based on membership in one or both of these organizations. Guests who have been invited to join will need to join at least one of these organizations, based on the events they plan to attend.
EVENTS WE ATTEND include NWTA and BAR events in Illinois, Indiana, Ohio, and Kentucky. Some of us also attend frontier events such as those at Martin's Station in Virginia, and other events of interest. At times we will modify our impression so as to attend French and Indian War, or Post Rev War events. Opportunities also exist to attend larger, annual events usually held in the Eastern States, or Canada.
BE OUR GUEST If Culpeper sounds like a company that fits your reenacting needs, drop us an email and we'll extend an invitation for you to be our guest at an upcoming event.

All images are copyright 2011 by the Culpeper Minute Battalion, or Gary Liming